Local author Tantri Wija shared her ideas on "How To Spend a Perfect 48 Hours in Santa Fe, NM" through Matador Network.
Santa Fe is the nation's oldest capital city, and probably its most unique. This is a land of red and green chile, jaw-dropping sunsets, and adobe-everything. It's a cultural hub—be it Indigenous, literary, artistic, or culinary—and it's full of options for an eye-opening / mouth-watering / just-plain-needed weekend. Here are 48 hours of ideas to get you started (plus some suggestions for a bonus third day, so you can continue the fun on one of those wonderful long weekends).
---
SATURDAY
MORNING
Musicians jam while shoppers buy fresh produce and goods at the Santa Fe Farmers' Market
Santa Fe is an amalgam of cultures, including Native American, Spanish, and Anglo, so it only makes sense to dabble in each. You might as well start strong (and early—this morning is jam-packed!) with a Native American-inspired breakfast at Amaya, at the Hotel Santa Fe, the city's only Native American-owned hotel. It's in downtown Santa Fe's Railyard District, and on Saturday mornings, this neighborhood is home to one of the best farmers' markets in the country, and a locals' favorite. More than 150 growers and producers participate in this long-standing, lively tradition.
Breakfasted and fortified, go get the full picture of the city's cultural diversity with a visit to Museum Hill. This is four cultural experiences in one: Start with the retablos and santos at the Museum of Spanish Colonial Art (the only museum of its kind in the country), move on to the Kachina carvings and pottery at the Museum of Indian Arts and Culture, note the colors and textiles at the Museum of International Folk Art, and wrap it all up with a wander around the Wheelwright Museum of the American Indian, home to some of the best Native American art in the state.
If you have time to spare, head to the Santa Fe Botanical Garden on Museum Hill. It's a little oasis full of colorful gardens and orchards, tons of native plants, notes of Southwestern architecture, and contemporary sculpture.
---
LUNCH AND AFTERNOON
When you're tired of feasting your eyes and want to feast the rest of you, head just north of Museum Hill to El Farol, a historic Spanish tapas bar (opened in 1835). Go for the mejillones—mussels in a tangy tomato sauce with hazelnut picada and herbs—and if you're running late thanks to your busy morning, take it easy, as happy hour starts at 3 pm.
But don't linger too long. El Farol sits right in the middle of the Canyon Road art district. Grab a bottle of water and take your eyes on another artistic trek. This is definitely one of the country's most iconic streets—a half-mile of art galleries (100+), boutiques, and restaurants, all set against the foothills of the Sangre de Cristo Mountains. And, yes, there's plenty of old-world charm and classic adobe architecture to seal the deal.
---
DINNER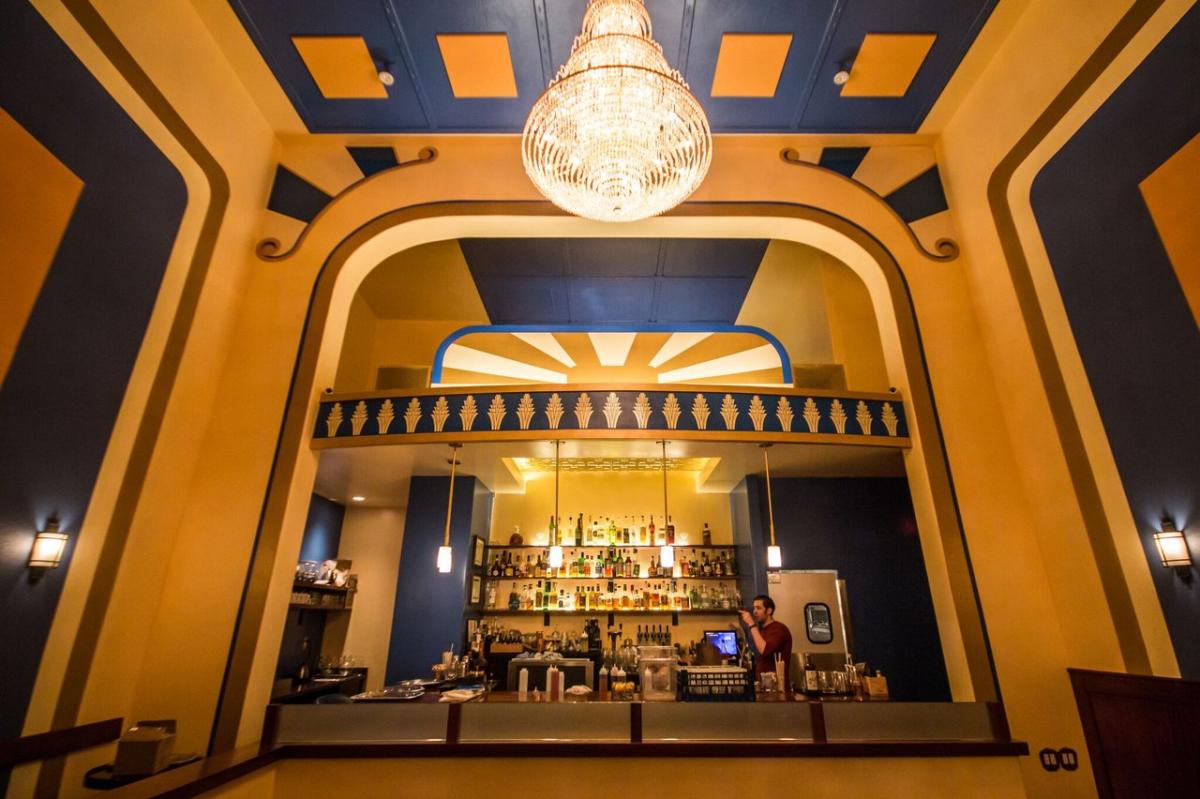 (Photo: Tonic Santa Fe)
Because today is all about learning, and because Santa Fe is known as a culinary destination, you'll probably want to pick up some skills to impress your friends back home. Take a class in local cuisine at the renowned Santa Fe School of Cooking (they offer both demo-style and hands-on classes). The best part? You get to eat the fruits of your labor, and trust us—with a little direction and supervision, you're definitely a better chef than you thought you were.
For after-dinner libations and sunset-gazing, order a mezcal cocktail on the ultimate people-watching patio at Coyote Cafe & Rooftop Cantina (when the weather's warm), or get slightly snazzied up and walk into a world of craft cocktails, Prohibition-esque chandeliers, and live jazz at Tonic.
---
SUNDAY
MORNING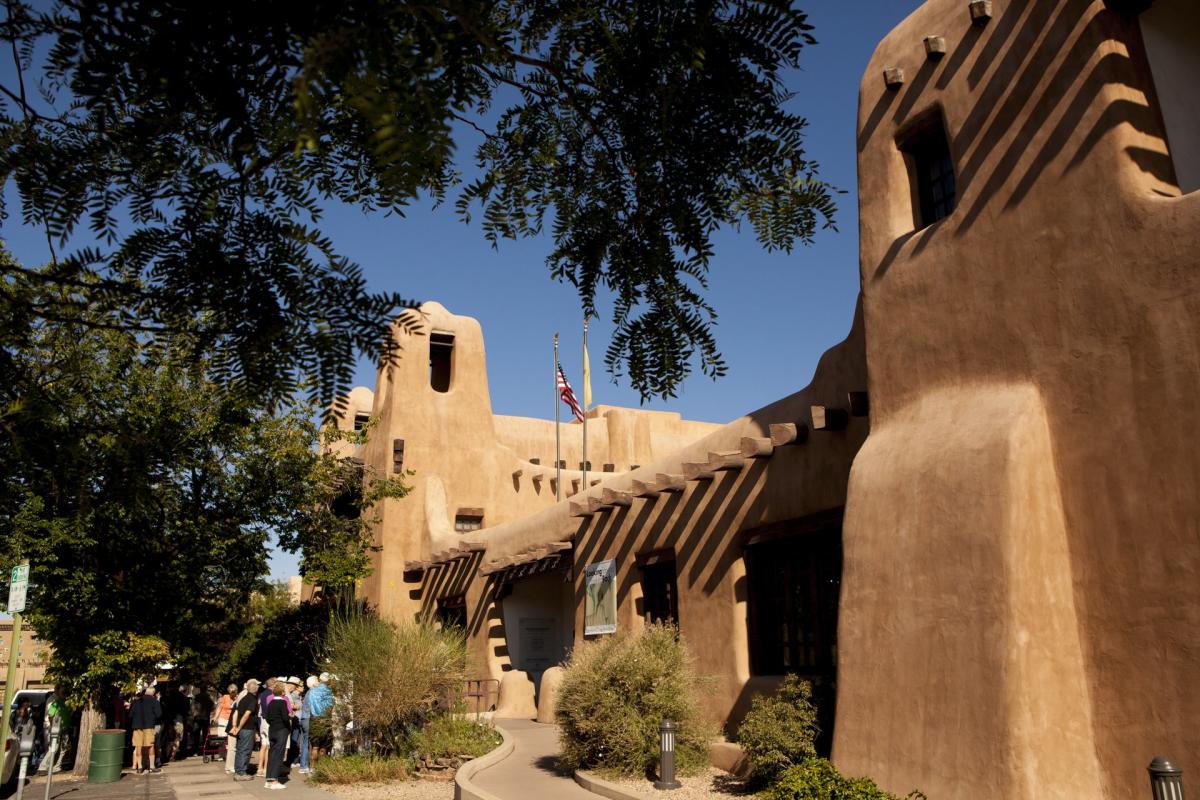 (Photo: New Mexico Museum of Art)
Get bright-eyed and bushy-tailed with breakfast downtown at La Posada de Santa Fe, a luxury resort and spa just off the Plaza. A historic destination in itself, La Posada was once the private home of Santa Fe art collector Julia Staab, whose ghost is said to haunt some of the guest rooms and the restaurant that bears her name. As you sip your mimosa, you can meander through the hallways, where a curated selection of contemporary art graces the walls. But keep your eye out for Julia!
Then, get ready for…you guessed it: art, art, and more art. Santa Fe is one of the country's largest art markets, after all. Take your time and get a flavor of the past at the New Mexico Museum of Art, just down the street from La Posada. It's housed in a Pueblo-Spanish Revival building based on the aesthetic of colonial-era mission churches (as are most buildings in downtown Santa Fe, by design).
Then it's off to explore the works of one of Santa Fe's own at the Georgia O'Keeffe Museum. You'll see her art—including her most iconic pieces —here, but you'll also get a glimpse into how she worked and where. After all, these are the landscapes that inspired her.
---
LUNCH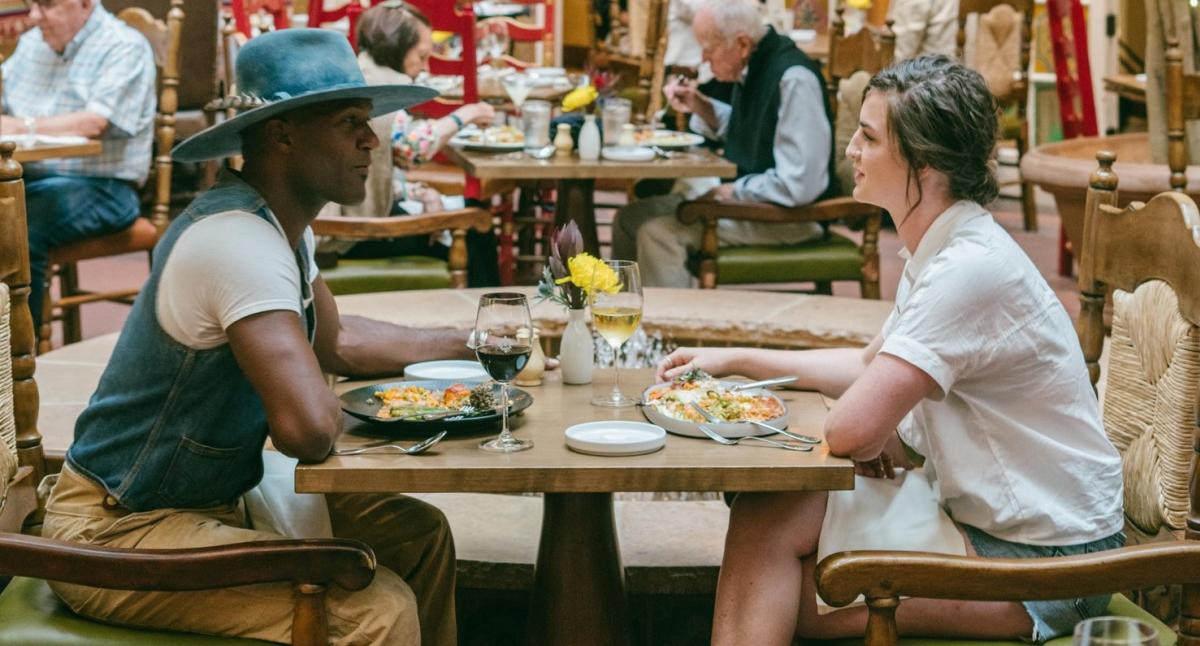 (Photo: La Fonda Santa Fe)
La Fonda Hotel doesn't just occupy the oldest hotel site in Santa Fe—it occupies the oldest hotel site in the country. Records date way, way back to 1607, right around when the city was founded (which was 1610). The digs inside are a bit more modern, however—their much venerated La Plazuela restaurant serves tasty, tasty, tasty modern Southwestern cuisine surrounded by skylights and the hammered tin of a 1920s-era patio. For some amazing margaritas, try the adjacent La Fiesta Lounge (it happens to be a favored stop on the Margarita Trail).
Thanks to its old roots, La Fonda (Spanish for "the inn") is the only hotel on the historic Santa Fe Plaza, making it an excellent launching pad for exploring the heart of the city's downtown buzz. Here's what you'll find nearby:
The Cathedral Basilica of St. Francis, a Victorian-era cathedral built by Archbishop Lamy and featured in Willa Cather's Death Comes for the Archbishop (yes, that Archbishop). If it looks incomplete, that's because it is—the project ran out of money and the two towers were never finished.
The Palace of the Governors, once a fortress where Governor Lew Wallace wrote the classic Ben Hur, is now a 413-year-old museum where artisans from the local Pueblo communities display handcrafted jewelry under its block-long portal.
Between the Plaza and the cathedral is the IAIA Museum of Contemporary Native Art, a culture-spanning collection of new art of and by North America's Indigenous peoples, and the only one of its kind in existence. It all started with a student honors program, and now it's the largest collection of contemporary Native American art in the world.
---
AFTERNOON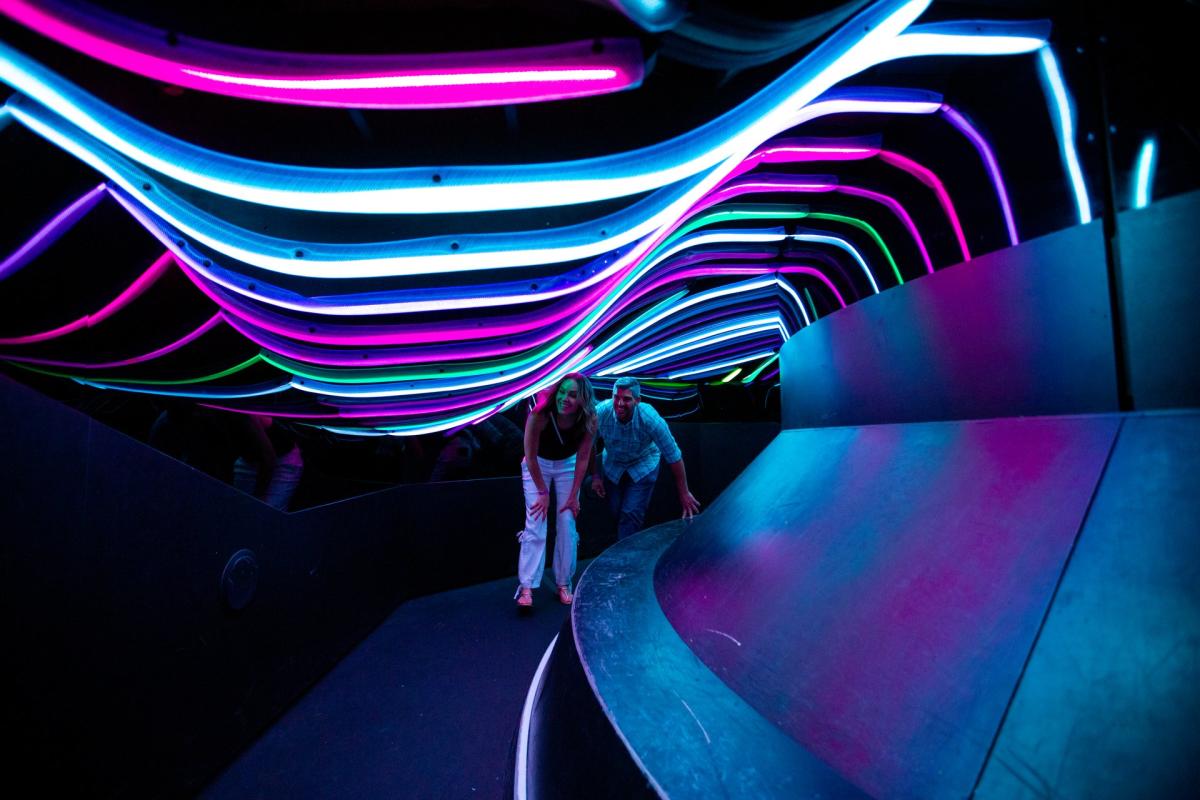 (Photo courtesy of Meow Wolf)
You've seen Santa Fe's artistic past—now it's time for a look into what's in store for the future. Head down to the city's reimagined industrial district for a visit to the original Meow Wolf's art collective's psychedelic fun house, The House of Eternal Return. Designed by local artists, it pretty much transcends words, though "a 20,000-square-foot secret portal into science fiction and neon" is a good start.
Mind sufficiently blown, pop around the corner to Second Street Brewery Rufina Taproom for an El Gato IPA or one of their sours, or head over to Siler Road just a couple miles away to Tumbleroot Brewery & Distillery for a refreshing Moscow Mule or any of their very own handcrafted spirits or beers. Both patios/outdoor spaces are vast and lively, and you may luck upon some great live music.
---
DINNER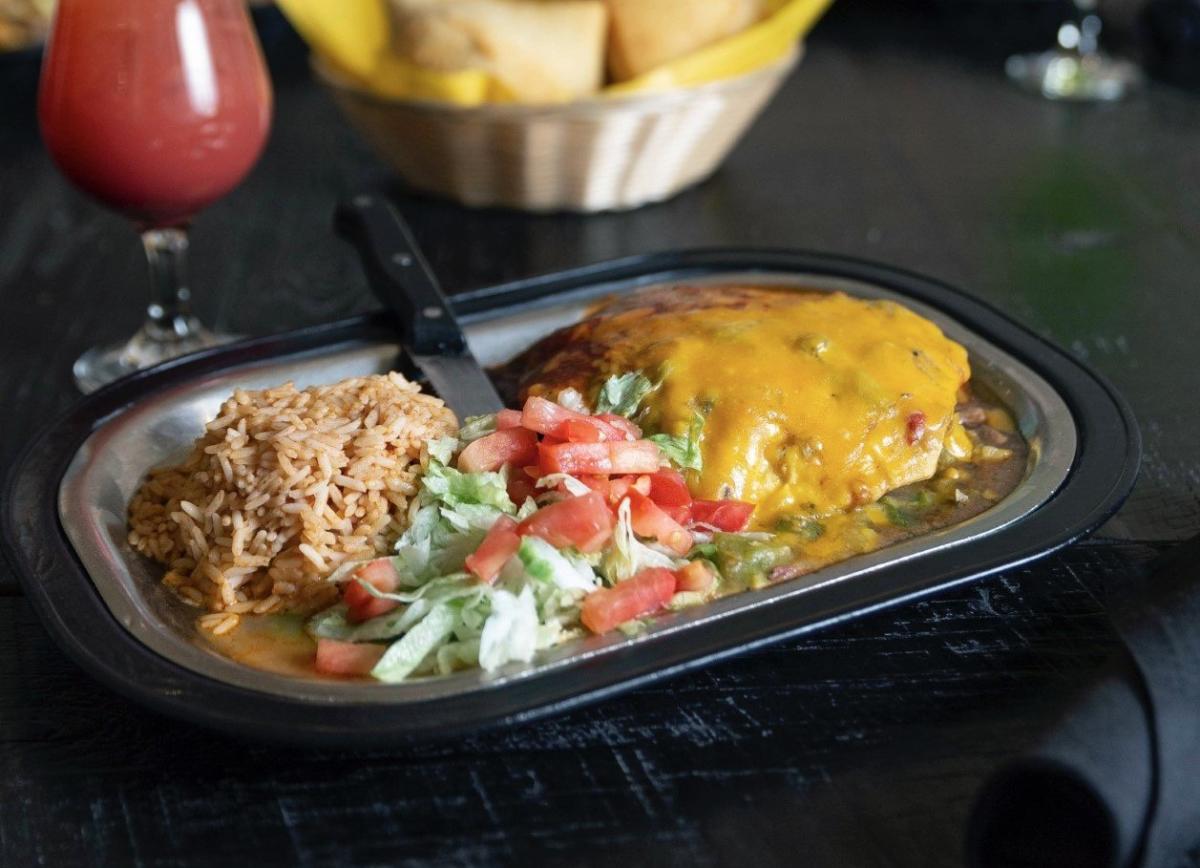 (Photo courtesy of Maria's New Mexican Kitchen)
Indulge! Go for a combination plate—that is, one of everything, because you can and should—at Maria's, located on Cordova Road, just a few minutes from downtown. The grandmadre of Santa Fe's New Mexican cuisine scene, Maria's is the spot for chile rellenos, spicy carne adovada, giant margaritas, and pillowy sopapillas, where they'll ask you the official state question: "Red or green?"
Hint: The answer is "Christmas." That's the best of both—red and green!
---
Bonus Day: MONDAY
MORNING
Rejoice that you have the opportunity to spend another day in The City Different! Start by stretching your legs on this short climb to the Cross of the Martyrs for spectacular views of the city you've been enjoying. The paved path leading up to the cross features handrails and plaques describing the history of Santa Fe. Access from downtown and plan for about an hour up and back. Now that your appetite is raring to go, you should probably go get yourself some more chile! Hop on the Breakfast Burrito Trail and find out just how tasty Santa Fe is!
---
AFTERNOON AND LUNCH
Yes, you are in a semi-arid climate, but you can find water, and healing water at that! Midday, transport yourself to the enchanting pools at either Ten Thousand Waves Japanese Spa & Resort on tranquil 20 acres of pinons and junipers or those at Ojo Santa Fe Spa Resort, set on 77 acres. Each is a short drive outside of town, has onsite spa services, a marvelous restaurant for fine lunch dining, and lodging (should you decide to stay yet another day!).
---
EVENING AND DINNER
Now, head back into Santa Fe rested and ready to roll. Literally. All aboard one of the many themed adventure trains with Sky Railway. Choose from Murder Mystery, Lore of the Land, Sunset Serenade, Jazz Under the Stars, and more! You'll be comfy and entertained in two refurbished historic railcars that roll along the 18 miles of track between Santa Fe Depot in the Railyard District and Lamy. The views! The fun! The stories you'll have to share!
After your great adventure, stay in the Railyard District for your final meal in Santa Fe. There are so many fun options to choose from, including Paloma's Mexican food, Cowgirl's BBQ, and Tomasita's New Mexican. You cannot go wrong!
---
Whether you are looking to visit for a weekend or a week, there are plenty of great experiences to be had! Get a taste of The City Different! After this, you'll be in love with Santa Fe. Call Rachele Griego for addtional resources, reccomendations and ideas and don't forget to add a day to your trip to enjoy searching for your Santa Fe residence.