Elevate movie night at Albuquerque Balloon Fiesta Drive-In, view Windows on the Future, make pottery for a cause, listen to Sol de la Noche, and find your flow.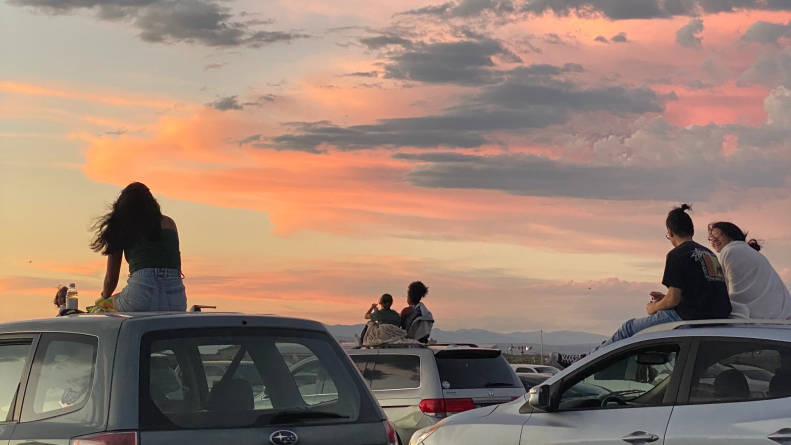 Above: Balloon Fiesta Drive-In shows a movie each night of the weekend. Photograph courtesy of Balloon Fiesta Drive-In.
Head to the drive-in.  
Classic ways of having fun are back. Picnics, cocktails on the porch, and drive-in movies are the new "going out." Balloon Fiesta Drive-In began filling that last bill in early July at Albuquerque's Balloon Fiesta Park. The massive space accommodates up to 450 cars, with ticket prices starting at $25 per vehicle. Opt for premium viewing for $45 or a tailgating spot for $30 that has enough room for a grill and is the only section in which you can sit outside of your car. Each car can have up to five people, making even the priciest ticket less costly than a trip to a traditional movie theater. 
"The drive-in concept is uniquely situated to bring people together in fairly large numbers but in a safe and socially distant way," says Xachery Branch, the drive-in's marketing chief. "Those who remember drive-ins well and those who are experiencing one for the first time seem to love the experience. Unlike a traditional movie theater, you can talk, text, and not have to worry about annoying your neighbor as you loudly unwrap a candy bar." 
The gates open at 7 p.m., with food trucks ready to serve. Movies start at 9 p.m. Tune in to 97.9 FM to hear the film. This weekend's lineup: Finding Nemo on Friday, How to Train Your Dragon on Saturday, and Raiders of the Lost Ark on Sunday. Future plans include a live concert by country singer Kane Brown on August 1. Purchase tickets at BalloonFiestaDriveIn.com. Use the coupon code "NMMag10" for a special 10 percent discount. 
Above: Nadine Lollino's "To Taste a Strawberry," at 107 Civic Plaza Drive, in Taos, is part of the Windows on the Future exhibit that features 60 artists in Taos, Albuquerque, and Santa Fe. Photograph courtesy of Paseo Project.
Go art hopping, window by window. 
A glowing neon strawberry sits among luminescent blue hands, lighting up a window on Civic Plaza Drive in Taos. A magenta papel picado (a form of Mexican paper art) brightens a big window at the Taos Mesa Brewing Taproom. Real yellow bananas sit in a sea of red wax bananas in the window of 516 Arts, in Albuquerque. Cool blues and soft pinks make you want to stop and stare at the minimalist paintings in windows at the International Folk Art Market, near downtown Santa Fe. All of these artworks add up to a groundbreaking, multi-city, social-distancing-safe exhibit.  
Windows on the Future is a collaborative effort of Santa Fe's Vital Spaces, Taos's the Paseo Project, and 516 Arts. The installations fill the front windows of temporarily closed storefronts and commercial spaces. 
The Paseo Project's executive director, J Matthew Thomas, says it has been so successful that organizers are extending it through August. "People have really been enjoying it, so we're excited," he says. 
The collaboration had been long brewing and, when the pandemic hit, got fast-tracked. "The point was getting money to artists when they really need it," he says. "What turned out to be important, too, was putting art in windows that would, unfortunately, be vacant in our downtowns. It helped to activate and bring excitement and inspiration into our communities."   
Sixty artists were selected, 20 in each city. Artists were paired with curators from places like the Guggenheim Museum, MoMA, SITE Santa Fe, and the IAIA Museum of Contemporary Native Arts. They had 30-minute Zoom sessions to help refine their visions, and a few formed budding mentorships that will last for years 
"I think people are desperate to find something to do in the art world," Thomas says. "To provide something like this was a welcome surprise. We've heard people making plans to go out in the evening and do the tour and really enjoying the feeling of something they haven't done in three months. That's pretty powerful. It makes you realize the importance of art and creativity in our lives."
Head to the Paseo Project website for detailed info about every work in the exhibit, as well as maps of the locations. Window shopping has never been so inspiring. 
Throw a pot, help a good cause.  
Paseo Pottery has been around since 1991, when it was founded as an artists' co-op. Manager Angela Smith Kirkman pushed its community-serving ideals further when she took the reins in 2018. Today, the ceramics center donates all profits from its pottery classes to local charities. This year, it's giving more than $10,000 to CASA First, Tewa Women United, and New Energy Economy. 
This Friday, Kirkman tries something new—hosting her first virtual class to celebrate the donation heading to CASA First by teaching its employees, who work with court-appointed special advocates for abused and neglected children. The students will each have a wheel and be socially distanced. Kirkman will show how to throw a bowl and says that if you have a wheel at home, you should definitely follow along. "While we're throwing, CASA will have an opportunity to talk about the work they're doing in the community and how they're going to use the donations." 
During the virtual class, there will be a link to donate directly to CASA and also a link to Paseo Pottery's online gallery. CASA receives 20 percent of sales that day. Don't have a wheel? Kirkman says it's still fun to witness. "It's like eye candy," she says.  
Two more virtual classes will be held for the other charities; Kirkman also offers in-person classes with very limited admission. Check out Paseo Pottery to see when you can get your hands into some clay. 

Above: Albuquerque-based Sol de la Noche performs a live-streaming concert on Saturday. Photography courtesy of Sol de la Noche.
Dance, dance, dance! 
Albuquerque-based alternative Latin-American band Sol de la Noche is set to perform a live-streamed concert hosted by AMP Concerts Saturday at 8 p.m. The group released its first album, Al Naturale, in September. With over 600 live performances, they are stage pros. 
The seven-piece ensemble consists of Diego Manrique on acoustic guitar and vocals, Kendall Jones on electric guitar, Jessica Pacheco on vocals, Matt Jaeger on bass, Mark Gallegos on drums, Alex Flores on trombone, and Michael Christmas on saxophone. Together, they create a cacophony of high-energy melodies and booty-shaking beats. 
The performance comes to you from the stage of the Sunshine Theater, complete with lights and top-notch sound. Find a link through AMP Concert's Facebook page. Tune in to the concert and tune out of reality.
Above: Christa Tyson leads the Pajarito Environmental Education Center's Vinyasa flow class on Sundays. Photograph courtesy of Pajarito Environmental Education Center.
And breeeeeeathe.
Vinyasa flow classes are all about marrying movement and breath. You inhale and exhale in time with the yoga poses and moving between positions. It calms and centers. This Sunday, you can try it for yourself in a virtual class hosted by the Pajarito Environmental Education Center. 
Christa Tyson, a 20-year yoga teacher, leads the weekly class, which she says is great for novices and more experienced yogis alike. "When I am teaching, I will say, if your body is telling you that you need something gentle, then try this option," she says. "If your body is telling you to push yourself, you can try this option. I add that in when I know there is a sequence that is challenging." 
The class is one hour, and Tyson invites attendees to play music in their homes if they want to practice with sound. Register through the PECC website to receive an email link to Zoom. The cost is free for volunteers, $5 for members, and $7 for non-members. 
"Having something you can do for yourself to let the stress and the chaos of what's going on around you disappear and focus on the moment and your breath and the movement of your body, it's just a huge relief," Tyson says. Categories:2020, July, Web Extra, Culture, Things To DoTags:Things to Do This Weekend, Live Music, Yoga, Art, Albuquerque, Taos, Santa Fe,Balloon Fiesta, Drive-In, COVID-19
AUTHOR: MARIA MANUELA
Maria Manuela is a writer, curator and model based in Santa Fe, where she was born and raised. Currently, she is writing a short story collection of magical realism folk stories based in the Southwest.