RACHELE GRIEGO
It Takes A Village
The Move for the Museum Challenge virtual event is back for a third year!
Every day, the staff and board of the Santa Fe Children's Museum work hard to ensure that our educational programs, facilities and driving spirit are accessible to as many children and families in northern New Mexico as possible. This is your opportunity to help us further our mission and make life better for the people in our state.
The last two years, with the global pandemic, brought unprecedented challenges. This year brings its own challenges, including the statewide impact of the wildfires. As families in our area evacuated their homes, the museum immediately responded by delivering Grab-n-Go kits to shelters and took our mobile planetarium to Glorieta.
These recent challenges have pushed the staff and board of the museum to be more flexible and creative in the way we serve children and their families. We believe this is an amazing opportunity for us all! We are working to find better ways to serve our constituencies in Santa Fe and surrounding communities in spaces beyond our flagship museum. Recognizing that transportation and other barriers prevent many families from visiting the museum, we look to deliver the joys of learning and play closer to where people live.
As we say in our value statement, "We champion a community dedicated to creating a more diverse, equitable, empathetic and enjoyable world." Alexa, Olivia and Seth, Kora, Melanie and Ryan and Rachele Griego
HELP US REACH OUR GOAL OF RAISING $10,000.
2022 MOVE FOR THE MUSEUM CHALLENGESUPPORTING SANTA FE CHILDREN'S MUSEUM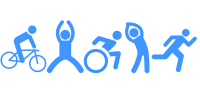 45 People have registered
17 Teams have registered
$101,708 Raised
190 Contributors
**Win a Museum Membership!**
JOIN THE CHALLENGE!​
Walk, bike, run, hike, or move YOUR way from wherever you are, in support of the Santa Fe Children's Museum. You can create a team or participate as an individual. Set a goal for how much you want to raise, and get your supporters to pledge a certain amount based on how much you move! Ask your family, friends, local businesses, and others to support your fundraising efforts.

MOVE FOR THE MUSEUM IS FOR EVERYONE!​
No matter who you are, how you choose to move, or how far you go, you'll be surrounded by the Museum family, fellow movers, and friends in the community cheering you on!

Your participation is your opportunity to positively impact families in northern New Mexico.
MAKING A DIFFERENCE
All Move for the Museum proceeds support Virtual Field Trips, Planetarium Shows for Title 1 Schools, distribution of STEAM-based Grab and Go Kits to rural and tribal communities, our upcoming Mobile Museum, and harvesting 1,000 lbs of produce from our Community Garden to feed food insecure families.

*All donations are 100% tax-deductible*